Woeller is proud to be Canada's exclusive distributor for Zolatone Interior Coatings.
Experience a whole new dimension in paint
Do you wish your favorite paint colours had a little more dimension? A little more movement? A little more pop? Step into the world of Zolatone where our colours have the tactile, dimensional quality you've been searching for.
It's the "wow" you've been searching for!
Our distinctive color and coating options will add an element of wow to your next project. Zolatone has been creating tough as nails paint since our early days lining Airstream Trailers and protecting the trunks of classic American Cars. Today we're a valued creative partner for many of the world's most prestigious architects and designers, offering them a unique textured and dimensional paint. Our colors may have changed since the sixties (thankfully) but our commitment to distinctive paints with unmatched performance never will.
What is Zolatone?
Technical definition: Zolatone is 100% acrylic, textured paint made up of varying shades and layers of colored particles.
In others words: It's awesome paint with a one-of-a-kind look that conceals scuffs and stains and protects your high traffic areas like a magical spell.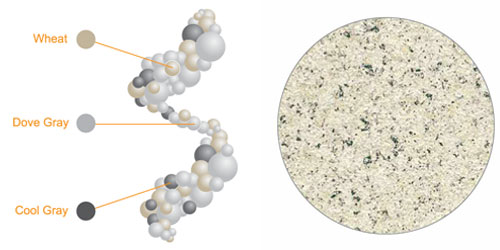 Our patented multi-color paint is going to do things to your buildings and projects that you never imagined. Zolatone colors have movement and depth not found in solid color paints. The infusion of our patented paint particles creates dimension and texture that make regular paints seem, well, regular.